Prince of Wales Theatre
31 Coventry Street, London, W1D 6AS GB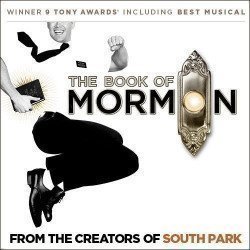 The Book of Mormon
Prince of Wales Theatre
Bestilling inntil: Saturday, 22 June 2019
Bestill

billetter
Tid
Mon
Tue
Wed
Thu
Fri
Sat
Sun
14:30
14:30
19:30
19:30
19:30
19:30
19:30
19:30
Alderbegrensning
Ikke egnet for små barn. Aldre 17 og oppover.
Viktig informasjon
Inneholder banne, seksuell og støtende innhold.
Bestilling inntil:
Saturday, 22 June 2019
The Book of Mormon – Det beste av religiøs satire
Hvis du lett tar anstøt, er dette ikke noe for deg! The Book of Mormon er forskrekkelig morsomt. Men det er voksen-moro, frekt og respektløst, med massevis av seksuelt innhold og med et endeløst potensial for å fornærme de ømfintlige. Som såden er stykket begrenset til 17 år og over, og bør helst unngås hvis du foretrekker at din musikalske underholdning er lys og luftig.
Hvis du har en forkjærlighet for South Park, skjønner du hva det dreier seg om. Musikalen er skrevet av Trey Parker og Matt Stone, som skapte den populære tegneserien for voksne, ledsaget av Robert Lopez, som laget den enorme amerikanske suksessen Avenue Q.
Dette er en øvelse i religiøs satire av toppklasse. Fortellingen? To mormoner sendes til Uganda for å konvertere lokalbefolkningen. Men der blir de møtt med betydelig motstand, og nesten alt går spektakulært og kjempefestlig galt.
Karakterene? Menighetens eldste Kevin Price drømmer om å spre ordet i Orlando, så han er ikke det minste fornøyd med å bli sendt til Uganda. Arnold Cunningham er usikker og overvektig, han har egentlig aldri vært helt inne i sin egen religion, han er en lystløgner som legger inn upassende bemerkninger om Star Wars i undervisningen når han bare kan. En annen av menighetens eldste er McKinley og er leder for Uganda misjonen, en skap-homofil som undertrykker sine følelser ved å slå dem av og på som en lysbryter. Mafata Hatimbi er stammens leder og Nabulungi hans nydelige datter, som passer på misjonærene. Ettersom forholdene utvikler seg stiller mormonerne spørsmål til seg selv om deres tro, hverandre og alt annet rundt situasjonen...
Sikre billige billetter til The Book of Mormon nå via nettstedet vårt, og gjør deg klar til en kveld med frekkhet, provoserende og herlig moro med prisbelønnet musikk, lys, lyd, regi og orkestrering, vinner av ni Tony-priser, nominert til seks priser fra Outer Critics Circle og tolv priser fra Drama Desk. Latter av verdensklasse!
Se The Book of Mormon i London! Vi kan hjelpe deg å spare opptil 70å The Book of Mormon billetter! Hvis du er ute etter teater rabattbilletter, ta en titt nedenfor på våre siste tilbud for The Book of Mormon på Prince of Wales Theatre.
1

Ingen bestillingsgebyr

Billetter

fra 306NOK
Valid Wednesday Matinee performances until 22 Jun 2019.. .
Pressekritikker
An unstoppable hit. Damnably clever and sharp. The Daily Telegraph
It's the hit of the year. Surprising, beguiling absurdity, and daring at every level. The Times
The most talked about show in London. A blast of often goofy, sometimes glorious musical comic delight. This show is the real deal. The Stage
I absolutely loved it. Seriously inspired and absolutely uproarious. The Independent
The Book of Mormon is viciously funny. Spirited and refreshing; joyous and even cuddly. Its defining feature is a filthy irreverence – an infatuation with making fun of everything, including itself. Evening Standard
Kundekritikker
Hva du kan vente deg:
Skuespillerne
Musikken
Kostymene
Historien
Belysningen
Anbefalt for:
Hvem som helst
Familier
Tenåringer
Par
Teatergjengere
Basert på 3527 kritikker
Underholdene
Musikk og sang var fengende og latteren satt løst.
Astrid London Box Office kunde
Topp underholdning
Frode London Box Office kunde
This show is absolutely a must-see!
Never laughed this much before on any other comedy show!
Hege London Box Office kunde
Funny!
Great fun! All South Park fans will love it.
Aksel Kjærmann London Box Office kunde
Fantastisk morsom og bra forestilling med stjerneskuespillere!
Cecilie London Box Office kunde
Surrealistisk komikk!
Surrealistisk, utrolig komisk og veldig, veldig festlig! Suverene skuespillere, dansere og musikere. Anbefales til alle som vil ha en god latter, men passer best til voksne pga surrealismen og religionshumor :D
Mette London Box Office kunde
Best musical ever seen
Go Watch this musical, it's worth it !! 2 hours of joy
Ingrid London Box Office kunde
Meget underholdende forestilling !
Stig London Box Office kunde
Hysterisk morsomt
Anne London Box Office kunde
Excellent show!
I haven't had such a good laugh in years!
Birgitte London Box Office kunde
Fantastisk bra show, men at for kort pause!
Anya London Box Office kunde
Alvorlig Morro. Tiden fløy.
Terje Christian London Box Office kunde
Underholdende
Liv London Box Office kunde
Noe man må se
Helt fantastisk show. Men det er en fordel at du har litt over middels engelsk kunnskaper for å få med deg punch lines
Une Helene London Box Office kunde
Fantastisk
Utrolig bra show! For en energi, for en glede, fantastiske skuespilllere/sangere, og morsom historie! Utrolig flotte kulisser! Vi storkoste oss!
Heidi London Box Office kunde
Kommer til å benytte London Box-office neste gang også!
Rolf-Ivar London Box Office kunde
Funny and entertaining
Anne Beate London Box Office kunde
Noe man må se!
Ann-Hege London Box Office kunde
Veldig bra, men teateret fikk tekniske problemer
Det ble en times opphold i forestillingen på grunn av tekninske problemer.
Jenny London Box Office kunde
Outstanding play!
Odd Frode London Box Office kunde
Underholdende
Engelskkunskapene må ha nivå. Afrika-engelsk, noe vanskelig. Noen poenger forsvant.
Børre London Box Office kunde
One of the best shows in town
Roger London Box Office kunde
Morsomt
Ragnhild London Box Office kunde
Morsom, uten tvil
Kari London Box Office kunde
Må sees
Cathrine London Box Office kunde
Morsom!
Bente London Box Office kunde
Must see!!
Fredrik Magnus London Box Office kunde
Herlig forestilling!
Fengende musikk. Humoristisk
Heidi S. London Box Office kunde
ie: hilarious, funniest show ever
I wanted to see the book of moron since it came out in the USA. Being a huge fan of Matt and Trey, I had some big expectation to this show. And it delivered, it delivered more then i expected! The songs, the actors, the story is all so great, everything was just an amazing experience. I would like to watch this play a 100 more times and still love it, must see show!
Sindre Surdal London Box Office kunde
2000 tallet's Life of Brian
Ypperlig satire over naiv religiøsitet.
Anonymt
Topp musical in London
Anonymt
Bruk søkeboksen øverst til venstre på denne siden for å søke etter The Book of Mormon tilgjengelige billetter i London.
London
BoxOffice

løfte
Velg sitteplasser når du bestiller
Trygg online bestilling
100% garanti for billettleveranse
Ingen skjulte avgifter

Teaterets adresse
Prince of Wales Theatre
31 Coventry Street, London, W1D 6AS GB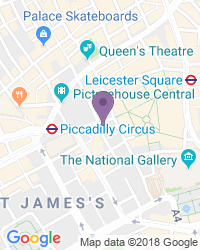 Bekvemmeligheter
Luftavkjølt
Klimatisert
Bar
Uføre toaletter
høreapparat
Medlem av
Toaletter
Adgang for rullestol
Teaterinfo
Kapasitet: 1125
År bygget: 1884
Neste forestillinger