17 Wilton Road, London, SW1V 1LG GB
Raske fakta
West Ends største lagerbeholdning av billetter
Tilgjengelighet for sitteplasser i sanntid
Velg sitteplassene dine
Bestillingen din behandles direkte i billettkontorets bestillingssystem.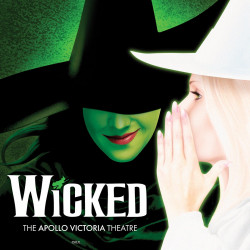 Wicked
4,7/5
-

Basert på

5399

kritikker
Bestilling inntil: søndag 2 juni 2024
Spillets lengde: 2 hours 45 minutes (incl. interval)
Billetter fra 372NOK
Bestill billetter
Informasjon
Billige Billetter
Kritikker
Om Wicked
Tid
Bestilling inntil: søndag 2 juni 2024
Spillets lengde: 2 hours 45 minutes (incl. interval)
Wicked Beskrivelse
Wicked – Et fascinerende eventyr basert på Trollmannen fra Oz!
Avisen The Independent har betegnet det somt "den mest vellykkede musical i West End", og det er ingen overraskelse. Wicked åpnet først på Londons Apollo Victoria Theatre i september 2006 og har gitt publikum en spennende forestilling siden da.
Romanforfatteren Gregory Maguire tok for seg fortellingen på nytt og laget om igjen rollene til L. Frank Baum i 'Den vidunderlige trollmannen fra Oz' for å lage Wicked. En utrolig historie fortelles om et usannsynlig, men dypt vennskap mellom to piker som først møtes... som heksestudenter.
Gjennom en en serie med merkverdige hendelser i landet Oz oppfyller de til slutt sine skjebner som Glinda den Gode og Vestens Onde Heks. Det er en fantastisk historie som er like sann i dag som den er i boka, en uforglemmelig, prisvinnende musikal som viser den mørke siden av Oz, med en skummel side som du aldri før kunne ha tenkt deg. Kjempemoro!
Musikalen har vunnet mange prestisjetunge priser i teaterverdenen, og Wicked er en musikal tettpakket med spenning, eventyr og overraskelser, pluss en mengde med flotte låter! Apollo Victoria er også flott, et førsteklasses eksempel på art deco design restaurert til fordums prakt like før Wicked ble satt i scene, og kåret til West Ends 'mest komfortable teater' av bladet Stage.
Så bestill nå for en teateropplevelse av høyeste kvalitet og med en fortelling som du aldri vil glemme!
Alderbegrensning
Please note
Recommended 7+.  All persons under 16 must be accompanied by an adult and may not sit on their own. Children under 5 years of age will not be admitted. Please aim to arrive 60-90 minutes prior to the event.  Latecomers will be admitted at a suitable point.
Viktig informasjon
The producers cannot guarantee the appearance of any particular artist, which is always subject to illness and holidays.
Circle row A Restricted View warning - Balcony wall (row A). It is recommended that these seats are for customers who are 5'8" (173cm) or taller but are suitable for most adults.
Neste forestilling for Wicked på Apollo Victoria
Billlige Wicked billetter
Se Wicked i London! Vi kan hjelpe deg å spare opptil 70å Wicked billetter! Hvis du er ute etter teater rabattbilletter, ta en titt nedenfor på våre siste tilbud for Wicked på Apollo Victoria.
Det er ingen spesialtilbud tilgjengelig for øyeblikket, men vi har fortsatt gode billettpriser for Wicked på Apollo Victoria.
Anmeldelser av Wicked
4,7 av 5
Basert på

5399

kritikker
Hva du kan vente deg:
Skuespillerne
Musikken
Kostymene
Historien
Belysningen
Anbefalt for:
Hvem som helst (82%)
Familier (93%)
Tenåringer (88%)
Par (87%)
Teatergjengere (89%)
Siste Kundeanmeldelser

Et must for alle som liker musikaler og andre også!
En opplevelse i et flott teater. Dette var en opplevelse jeg vil huske lenge. En av de beste musikalopplevelsene mine i London.
Anmeldt på 18 august 2019 av Irene, Spikkestad, Norway

fantastisk!
Anmeldt på 06 februar 2018 av Maria, Lørenskog, Norway

Kjedelig
Anmeldt på 04 november 2017 av Ingvild, Kongsberg, Norway

Bra show/story
Anmeldt på 06 desember 2016 av Trond, Haugesund, Norway

Underholdende
Anmeldt på 04 juli 2016 av Camilla, Tromsdalen, Norway

Flott!
Forestillingen hadde nerve hele veien. Spesielt imponert over de to hovedrolleinnehaverne.
Anmeldt på 02 oktober 2015 av Kirsten, Raade, Norway

Very good
Great show. Fun and interesting. But not for small children. Might be scary. Maybe not for grown up men either ;)
Anmeldt på 15 juli 2015 av Kirsti Rusten, Oslo, Norway

excellent performance and beautiful voices
Anmeldt på 27 februar 2014 av Anonymt