Wyndham's Theatre
32-36 Charing Cross Road, London, WC2H 0DA GB
Vises nå på
Wyndham's Theatre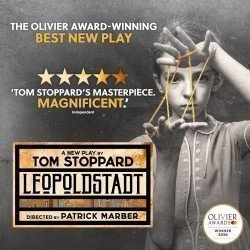 åpen
Leopoldstadt
Wyndham's Theatre
4,1/5
-

Basert på

13

kritikker - (Kritikk)
4,1

13

kritikker
Billetter fra 207NOK
Tom Stoppard's Olivier Award-winning BEST NEW PLAY returns to the Wyndham's Theatre for 12 weeks only.
LEOPOLDSTADT – the Olivier Award-winning new 'masterwork' (Evening Standard) by Tom Stoppard opened to overwhelming critical acclaim in early 2020, playing seven weeks of sold-out performances, before being temporarily shut down. Since then, the grand Viennese apartment on Wyndham's stage has waited for a great reawakening, as audiences eagerly anticipate the return of LEOPOLDSTADT. Now, Stoppard's 'unforgettable play from the heart' (The Telegraph) re-opens in the West End, June 2021.
Bestilling inntil: lørdag 30 oktober 2021
Leopoldstadt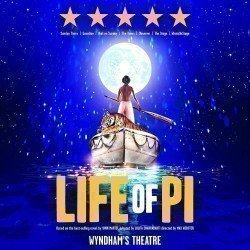 Åpner 14 nov. 2021
Åpner 14 november 2021
The Life of Pi
Wyndham's Theatre
Billetter fra 345NOK
After a cargo ship sinks in the middle of the vast Pacific Ocean, there are five survivors stranded on a lifeboat - a hyena, a zebra, an orangutan, a Royal Bengal tiger, and a sixteen year-old boy named Pi. Time is against them, nature is harsh, who will survive?
Based on one of the most extraordinary and best-loved works of fiction – winner of the Man Booker Prize, selling over fifteen million copies worldwide – and featuring breath-taking puppetry and state-of-the-art visuals, Life of Pi is a universally acclaimed, smash hit adaptation of an epic journey of endurance and hope.
Bestillingsskjema: søndag 14 november 2021
Bestilling inntil: søndag 27 februar 2022
The Life of Pi
Wyndham's Theatre Facilities
Klimatisert
Bar
Uføre toaletter
høreapparat
Medlem av Q-Park scheme
Toaletter
Adgang for rullestol
Wyndham's Theatre Access Tickets
Disabled theatregoers and their carers can get discount tickets. Please phone the Wyndham's Theatre access line on 034 4482 5137.
Wyndham's Theatre Beliggenhet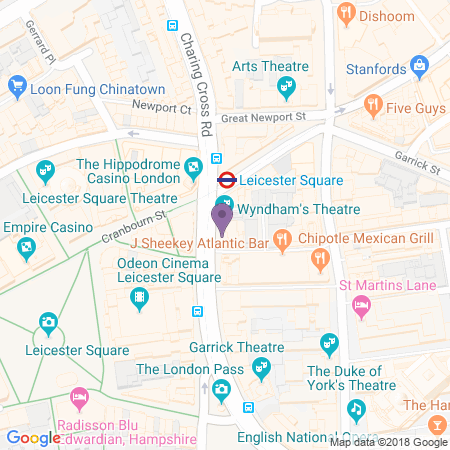 Veibeskrivelse
Reiseinformasjon
Nærmeste undergrunnsstasjon
Leicester Square

Covent Garden
Nærmeste jernbanestasjon
Dagbusser
(Charing Cross Road) 24, 29, 176; (Shaftesbury Avenue) 14, 19, 38
Nattbusser
(Charing Cross Road) 24, 176, N5, N20, N29, N41, N279; (Shaftesbury Avenue) 14, N19, N38