Vaudeville Theatre
404 Strand, London, WC2R 0NH GB
Vises nå på
Vaudeville Theatre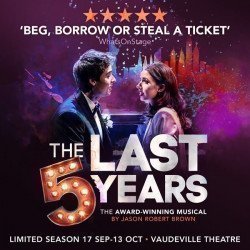 Åpner 17 sep. 2021
Åpner 17 september 2021
The Last 5 Years
Vaudeville Theatre
4,3/5
-

Basert på

3

kritikker - (Kritikk)
4,3

3

kritikker
Billetter fra 444NOK
Bestillingsskjema: fredag 17 september 2021
Bestilling inntil: onsdag 13 oktober 2021
The Last 5 Years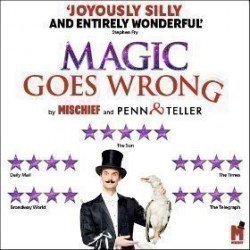 Åpner 21 okt. 2021
Åpner 21 oktober 2021
Magic Goes Wrong
Vaudeville Theatre
4,5/5
-

Basert på

26

kritikker - (Kritikk)
4,5

26

kritikker
Billetter fra 280NOK
Par (88%)
Teatergjengere (81%)
i
Created with Magic legends Penn & Teller, Mischief Theatre conjure up an evening of grand illusion.
In the next 'Goes Wrong' comedy to hit the West End, the original Mischief company play a hapless gang of magicians presenting a charity event.
Bestillingsskjema: torsdag 21 oktober 2021
Bestilling inntil: søndag 27 februar 2022
Spillets lengde: 2 hours 10 minutes
Magic Goes Wrong
Vaudeville Theatre Facilities
Klimatisert
Bar
Medlem av Q-Park scheme
Toaletter
Adgang for rullestol
Vaudeville Theatre Access Tickets
Disabled theatregoers and their carers can get discount tickets. Please phone the Vaudeville Theatre access line on 033 0333 4815.
Vaudeville Theatre Beliggenhet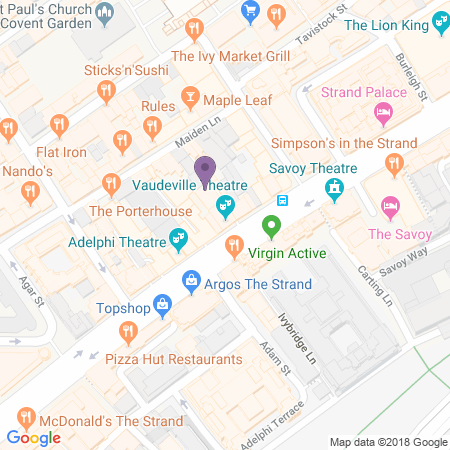 Veibeskrivelse
Reiseinformasjon
Nærmeste undergrunnsstasjon
Nærmeste jernbanestasjon
Undergrunnslinjer
Piccadilly
Bakerloo
Circle
District
Northern
Dagbusser
(Strand) 6, 9, 11, 13, 15, 23, 87, 91, 139, 176
Nattbusser
(Strand) 23, 139, 176, N6, N9, N11, N13, N15, N21, N26, N44, N47, N87, N89, N91, N155, N343, N551
Vaudeville Theatre history
From the outside
The Vaudeville is as pretty inside as it is from the outside, a pure white rectangle filled with ornate gold patterning, a luscious burgundy ceiling with a gorgeous sunburner and a classically elegant Georgian feel.
Vaudeville Theatre architecture and history
The theatre was designed by the architect C. J. Phipps, who designed several theatres of the time, was decorated by George Gordon and opened with an Andrew Halliday comedy, For Love Or Money, plus a popular burlesque called Don Carlos.
The 1870 frontage of the current building wasn't anywhere near as impressive as it is now, being made up from two very plain house fronts. But two decades later the theatre's owners invested in a grand new façade and also updated the interior, adding a beautiful new ceiling and cutting the seating down from a cramped 1,000 to a comfy 740, only to sell to the Gatti family a year later.
Early on the theatre mostly staged popular comedies and revues, and it was owned by the Gattis for an impressive 77 years. In 1925 they knocked down the traditional horseshoe-shaped interior and created a more practical, rectangular space and reducing the seating by another 100.
Covent Garden was about to be refurbished in 1968 by the GLC, and the theatre was threatened along with the Adelphi Theatre, Garrick Theatre, Lyceum Theatre and the Duchess Theatre, all nearby. Thankfully a powerful campaign by the actors' union Equity, the Musicians' Union and the owners of the buildings – the Save London Theatres Campaign – saw the proposed project shelved for good and the Vaudeville was saved.
In 1969 the Gatti family finally sold their interest in the theatre to Sir Peter Saunders, who commissioned Peter Rice to re-do the interior completely in 1970. The building was Grade 2 listed by English Heritage in 1972.
In 2003 the theatre was bought by Max Weitzenhoffer , and it was brought under the umbrella of Nimax Theatres Limited in 2005.
Past shows at the Vaudeville Theatre
The hit musical Salad Days graced the Vaudeville Theatre's stage in the 1950s, with a record-breaking 2,288 performances and a 1996 revival starring Kit and The Widow. Jean Fergusson's She Knows You Know was nominated for a Laurence Olivier Award in 1998 and, also in '98, Kat and the Kings won Oliviers for Best New Musical and Best Actor in a Musical. In 2001 the Ray Cooney farce Caught in the Net enjoyed a run of ten months. Stomp was in residence from 2002 to '07.
Vaudeville Theatre access
Guide dogs are allowed in the auditorium and boxes, or staff can dog-sit if you prefer. There are no spaces for wheelchairs in the auditorium, or motorised chairs, but there's transfer seating in every aisle on the Stalls' left hand side. The Vaudeville theatre is licensed for two wheelchair users each performance and wheelchair users must bring a companion.
Vaudeville Theatre tickets
We're your premier destination for a wide variety of seat types and prices, with excellent availability on the full range of Vaudeville Theatre tickets.