Trafalgar Studios
14 Whitehall, London, SW1A 2DY GB
Vises nå på
Trafalgar Studios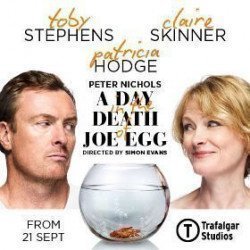 A Day in the Death of Joe Egg
Trafalgar Studios
5/5
-

Basert på

1

kritikk - (Kritikk)
5

1

kritikk
Billetter fra 296NOK
Familier (100%)
Par (100%)
Teatergjengere (100%)
i
Toby Stephens (Oslo, Lost in Space) and Claire Skinner (Outnumbered) make their long-awaited returns to the West End stage in Peter Nichols' (Privates on Parade, Passion Play) frank and moving masterpiece A Day in the Death of Joe Egg.
Bestilling inntil: lørdag, 30 november 2019
A Day in the Death of Joe Egg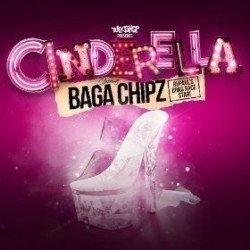 Cinderella - Trafalgar Studios
Trafalgar Studios
2/5
-

Basert på

1

kritikk - (Kritikk)
2

1

kritikk
Billetter fra 177NOK
Not another Cinderella…?! We know, we know, BUT this time it's the West End getting a fierce and funny drag makeover with this hilarious retelling of the classic pantomime from TuckShop!
This age-old rags-to-riches story is being dragged up for London, so dust off your glass stripper-slippers, give your carriage a rub down, and join us as the clock strikes midnight for the Fairy Godmother of pantomimes, Cinderella. 
Starring BBC THREE's RuPauls Drag Race UK Star BAGA CHIPZ as the Wicked Stepmother, Britain's Got Talent icon SHEILA SIMMONDS as the Fairy Godmother, and a whole drag cast, this is Cinderella as you've never seen her before. 
Bestillingsskjema: søndag, 15 desember 2019
Bestilling inntil: søndag, 29 desember 2019
Cinderella - Trafalgar Studios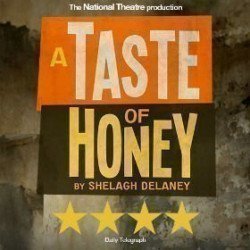 A Taste Of Honey
Trafalgar Studios
5/5
-

Basert på

1

kritikk - (Kritikk)
5

1

kritikk
Billetter fra 591NOK
Shelagh Delaney's ground-breaking British classic A Taste of Honey returns to the West End for the first time in 60 years.
Directed by Bijan Sheibani (Barber Shop Chronicles) and designed by Hildegard Bechtler (Antony and Cleopatra), A Taste of Honey is a gritty depiction of working-class life in post-war Britain and an exhilarating portrayal of the vulnerabilities and strengths of the female spirit in a deprived and restless world. 
Bestillingsskjema: torsdag, 5 desember 2019
Bestilling inntil: lørdag, 29 februar 2020
A Taste Of Honey
Trafalgar Studios Facilities
Klimatisert
Bar
høreapparat
Medlem av Q-Park scheme
Toaletter
Trafalgar Studios Beliggenhet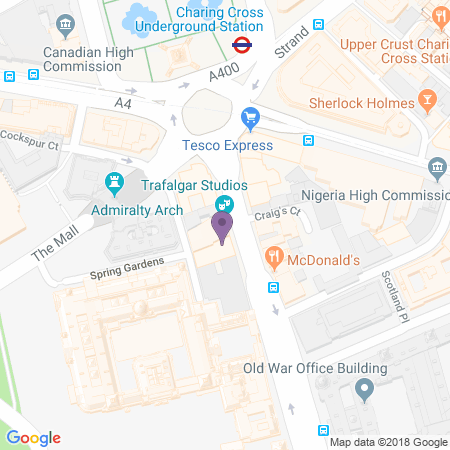 Veibeskrivelse
Reiseinformasjon
Nærmeste undergrunnsstasjon
Nærmeste jernbanestasjon
Undergrunnslinjer
Bakerloo
Northern
Circle
District
Dagbusser
(Whitehall) 3, 11, 12, 24, 53, 88, 91, 159, 453; (Strand) 6, 9, 13, 15, 23, 29, 87, 139, 176
Nattbusser
(Whitehall) 12, 24, 53, 88, 159, 453, N2, N3, N5, N11, N18, N20, N44, N52, N87, N91, N97, N109, N136, N155, N381 (Strand) 6, 23, 139, 176, N9, N13, N15, N21, N26, N29, N41, N47, N89, N279, N343, N551
Trafalgar Studios history
From the outside
Noticeable for its three surprisingly high arches, Trafalgar Studios was built in 1930 and consists of two separate areas. Studio 1 is a sloped auditorium in dark blue, once the old Whitehall Theatre's dress circle. Studio 2 is created from the old stalls and has just 100 seats.
Trafalgar Studios Theatre architecture and history
Trafalgar Studios looks new. But looks are deceptive. There was a pub on the site from 1650 and while the theatre only opened in its current form in 2004, the original building dates back to 1930. Named the Whitehall Theatre, it was designed by Edward Stone with Art Deco interiors by Marc-Henri and Laverdet.
The Trafalgar Studios are tiny, as was the original Whitehall Theatre, which showed fringe productions and during World War Two, in 1942, actually hosted strippers, followed by a suite of popular comedies, the so-called Whitehall Farces, between 1950 and the late '60s. They even staged a nude show in 1969, which while highly controversial was also very popular!
In the 1970s the theatre failed and was replaced by a museum, set up without permission. In 1986 the theatre was refurbished and re-opened as a television and radio recording studio in the late 1990s, hosting the occasional play and concert.
The theatre was Grade 2 listed in 1996, mainly for the auditorium's 'decorative cohesion and prettiness', with the 'best surviving original fabric of this type of theatre'.
In the early 2000s the venue struck lucky, with a radical transformation that turned the building from a standard 700 seater into two delightfully intimate auditoriums with 380 and 100 seats respectively, designed by the architects Tim Foster and John Muir.
These days, as Trafalgar Studios 1 and 2, it is a popular venue for intimate, small scale stage productions, and is owned by the Ambassador Theatre Group.
Past shows at the Trafalgar Studios Theatre
Past hits at the Trafalgar Studios theatre, in its original form, include Three Sisters, Puppetry of the Penis, Rat Pack Confidential, and Sing-a-Long-a-ABBA. Sweeney Todd, Alan Bennett's The Old Country, Jane Eyre and Bent have also been staged there, as has Educating Rita, Confessions of a Dancewhore and State Fair.
Trafalgar Studios Theatre access
Trafalgar Studios are accessible to wheelchairs. The main entrance is on Whitehall. Studio 1 has wheelchair spaces in the front row and Studio 2 offers a wheelchair space in the front row. If you can transfer to seating, you're welcome to do so. Guide dogs are welcome in the auditoria, or staff can dog-sit if you prefer.
Trafalgar Studios Theatre tickets
We're a trusted destination for a wide variety of seat types and prices, with excellent availability on the full range of Trafalgar Studios Theatre tickets.