West Street, London, WC2H 9ND GB
Raske fakta
West Ends største lagerbeholdning av billetter
Tilgjengelighet for sitteplasser i sanntid
Velg sitteplassene dine
Bestillingen din behandles direkte i billettkontorets bestillingssystem.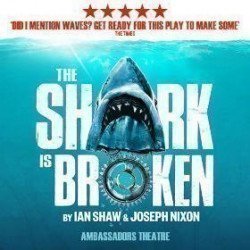 The Shark Is Broken
Bestilling inntil: lørdag 18 juli 2020
Billetter fra 215NOK
Bestill billetter
Om The Shark Is Broken
Tid
Bestilling inntil: lørdag 18 juli 2020
The Shark Is Broken Beskrivelse
Cape Cod, 1974: shooting on JAWS has stalled. The film's lead actors – Robert Shaw, Roy Scheider and Richard Dreyfuss – are stuck on a boat, frustrated by foul weather and a faulty mechanical co-star. Awash with alcohol and ambition, three great white sharks start to bare their teeth… 
The Shark is Broken reveals the hilarious behind-the-scenes drama on one of Hollywood's biggest blockbusters. 
Sonia Friedman Productions is delighted to announce its second production at the Ambassadors Theatre in 2020. After a sell-out, critically acclaimed premiere at the 2019 Edinburgh Fringe, Ian Shaw and Joseph Nixon's brilliantly funny play will arrive in the West End from 11th May.