Dette showet er nå stengt.
Raske fakta
West Ends største lagerbeholdning av billetter
Tilgjengelighet for sitteplasser i sanntid
Velg sitteplassene dine
Bestillingen din behandles direkte i billettkontorets bestillingssystem.
Dette showet er nå stengt.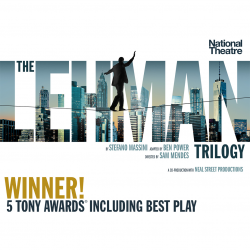 The Lehman Trilogy
4,7/5
-

Basert på

41

kritikker
Hold meg informert
Gi meg beskjed når billetter til The Lehman Trilogy er i salg.
Informasjon
Billige Billetter
Kritikker
Om The Lehman Trilogy
Tid
The Lehman Trilogy Beskrivelse
The National Theatre and Neal Street Productions' The Lehman Trilogy makes a triumphant return to London following an acclaimed season in Los Angeles and a highly lauded run on Broadway, winning 5 Tony Awards® including Best Play. Directed by Academy Award®, Tony Award® and Golden Globe winner Sam Mendes, The Lehman Trilogy features a cast of three playing the Lehman brothers, their sons and grandsons, in an extraordinary feat of story-telling told in three parts on a single evening. Hailed by The New York Times as 'a genuinely epic production', The Lehman Trilogy is the story of a family and a company that changed the world.
On a cold September morning in 1844, a young man from Bavaria stands on a New York dockside dreaming of a new life in the new world. He is joined by his two brothers, and an American epic begins. 163 years later, the firm they establish – Lehman Brothers – spectacularly collapses into bankruptcy, triggering the largest financial crisis in history.
Important COVID-19 information
This venue has additional Covid-19 safety measures in place to ensure the health and well-being of the staff, performers, and guests.
We recommend that you wear a mask while inside this venue.
Billlige The Lehman Trilogy billetter
Se The Lehman Trilogy i London! Vi kan hjelpe deg å spare opptil 70å The Lehman Trilogy billetter! Hvis du er ute etter teater rabattbilletter, ta en titt nedenfor på våre siste tilbud for The Lehman Trilogy på Gillian Lynne Theatre.
Det er ingen spesialtilbud tilgjengelig for øyeblikket, men vi har fortsatt gode billettpriser for The Lehman Trilogy på Gillian Lynne Theatre.