Sadlers Wells
Rosebery Avenue, London, EC1R 4TN GB
Vises nå på
Sadlers Wells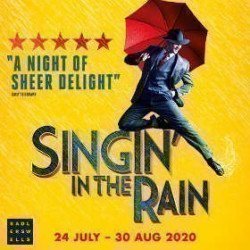 Åpner 30 juli 2021
Åpner 30 juli 2021
Singin' In The Rain
Sadlers Wells
4,7/5
-

Basert på

31

kritikker - (Kritikk)
4,7

31

kritikker
Billetter fra 417NOK
Par (87%)
Teatergjengere (90%)
i
Basert på den opprinnelige kjempesuksessen med Gene Kelly og Debbie Reynolds, er Singing in the Rain en deilig letthjertet og flott koreografert West End spektakulær. Det er en fengslende historie fortalt gjennom en visuell fest av åndeløs dans og en serie med hjertevarmende klassiske låter. Forvent noe som ganske enkelt er fantastisk og du blir ikke skuffet!!
Bestillingsskjema: fredag 30 juli 2021
Bestilling inntil: søndag 5 september 2021
Vises nå på: Sadlers Wells
Bestilling inntil: søndag 5 september 2021
Singin' In The Rain
Sadlers Wells Facilities
Klimatisert
Bar
Uføre toaletter
høreapparat
Restaurant
Toaletter
Adgang for rullestol
Sadlers Wells Beliggenhet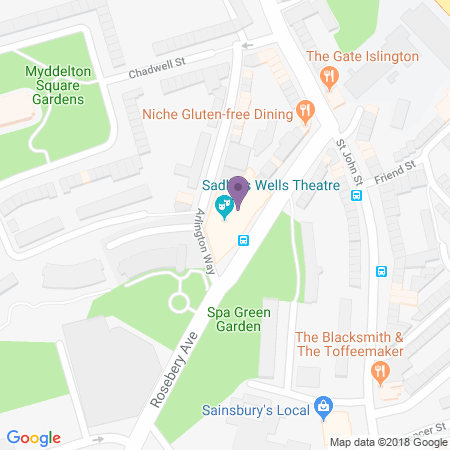 Veibeskrivelse
Reiseinformasjon
Nærmeste undergrunnsstasjon
Dagbusser
(Rosebery Avenue) 19, 38, 341; (Upper Street) 4, 43, 56, 153; (Pentonville Road) 30, 205, 214, 394, 476
Nattbusser
(Rosebery Avenue) N19, N38, N41, 341; (Upper Street) 43; (Pentonville Road) 205, 214, N73
Sadlers Wells history
From the outside
The Sadler's Wells theatre is an exercise in modern and ancient, a blend of contemporary glass and old red brick. Inside it's equally interesting, with traditional curved seating set against a startlingly modern backdrop of square metallic panels hanging from the ceiling.
Sadlers Wells Theatre architecture and history
The Sadlers Wells theatre is the second oldest London entertainment venue, the first being the West End's Theatre Royal Drury Lane.
In 1683 the Sadlers Wells Theatre started life as a so-called musick house under which the building's owner, Dick Sadler, had discovered a series of wells containing water with alleged holy healing properties. But the excitement soon wore off and the public stopped visiting. To bring them back, the venue put on a series of freak shows and circus acts throughout the late 1600s and 1700s. Pantomimes and comic operas were the venue's stock-in-trade in the early 1800s, using the by now famous water tank to put on shows with a watery theme.
In 1843, when drama censorship was finally lifted in Britain, Sadler's Wells officially became a theatre at last. Kicking off with a series of popular Shakespeare plays, it soon descended back into relative chaos without a discernible theme, switching managers and purposes every few years. The world's most famous clown, Joseph Grimaldi, performed at Sadler's Wells aged just two. At one point the building was re-purposed as an ice skating rink, then used for wrestling competitions and even as a cinema.
Having limped along for decades, the theatre finally closed down in 1915. Thankfully Lilian Baylis, the owner of the Old Vic Theatre at the time, rescued it in 1925, supported by numerous public figures of the day including Winston Churchill. The venue re-opened as a home for top quality opera, dance and ballet. At this point, the Sadler's Wells Ballet School was born.
Through the late 1900s the theatre acted as a proving ground for the era's best new performers, finally leading to an extensive facelift in 1996, achieved with lottery funding. The acoustics were improved and some parts of the building completely demolished and rebuilt. In 1998 the new building opened its doors, the sixth theatre to stand on the site, with a larger stage and better seating.
These days the Sadler's Wells Theatre is the UK's leading dance house, committed to producing, commissioning and presenting daring, top class works. They put on everything from the very best contemporary dance to tango, hip hop, flamenco and tap dance, as well as unique and unusual collaborations with visual artists. The venue also works closely with a group of associates who represent some of Britain's most exciting dance talent including Matthew Bourne, Jonzi D, Sylvie Guillem, Michael Hulls, Akram Khan, Wayne McGregor and Kate Prince, to name just a few.
Past shows at the Sadler's Wells Theatre
The Sadler's Wells Theatre is known for being wonderfully prolific, putting on an impressive number of productions every year. Recent shows have included The Scottish Ballet, the Cloud Gate Dance Theatre of Taiwan, the Rambert Dance Company, Matthew Bourne's Nutcracker, Ivan Putrov, Candoco Dance Company, Hofesh Shechter Company and the Flamenco Festival London.
Sadler's Wells Theatre access
Please specify your access requirements when you book tickets. There are wheelchair spaces, easy access aisle seats and level access available.
Sadler's Wells Theatre tickets
We're a popular destination for a wide variety of seat types and prices, with excellent availability on the full range of Sadler's Wells Theatre tickets.