Old Vic Theatre
103 The Cut, London, SE1 8NB GB
Vises nå på
Old Vic Theatre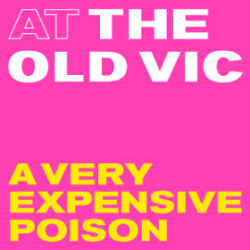 A Very Expensive Poison
Old Vic Theatre
Billetter fra 261NOK
A shocking assassination in the heart of London. In a bizarre mix of high-stakes global politics and radioactive villainy, a man pays with his life.
At this time of global crises and a looming new Cold War, A Very Expensive Poison sends us careering through the shadowy world of international espionage from Moscow to Mayfair.
John Crowley (Brooklyn, The Goldfinch) directs Lucy Prebble's (The Effect, ENRON) reimagining of Luke Harding's jaw-dropping exposé of the events behind the notorious death of Russian spy Alexander Litvinenko.
Bestilling inntil: lørdag, 28 september 2019
A Very Expensive Poison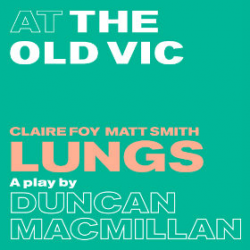 Lungs
Old Vic Theatre
Billetter fra 847NOK
'I could fly to New York and back every day for seven years and still not leave a carbon footprint as big as if I have a child. Ten thousand tonnes of CO2.
That's the weight of the Eiffel Tower. I'd be giving birth to the Eiffel Tower'
The ice caps are melting, there's overpopulation, political unrest; everything's going to hell in a handcart – why on earth would someone bring a baby into this world?
 
Bestillingsskjema: mandag, 14 oktober 2019
Bestilling inntil: lørdag, 9 november 2019
Hovedrollene: Claire Foy, Matt Smith
Lungs
A Christmas Carol
Old Vic Theatre
4,7/5
-

Basert på

10

kritikker - (Kritikk)
4,7

10

kritikker
Billetter fra 261NOK
Familier (90%)
Par (100%)
Teatergjengere (100%)
i
Matthew Warchus' big-hearted, smash hit production of Charles Dickens' immortal classic returns to The Old Vic, joyously adapted for the stage by Jack Thorne (Harry Potter and the Cursed Child).
Bestilling inntil: lørdag, 18 januar 2020
A Christmas Carol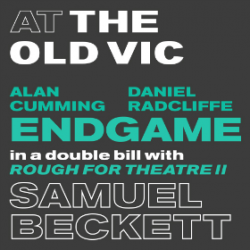 Endgame
Old Vic Theatre
Billetter fra 262NOK
Go and get two bicycle-wheels.'
'There are no more bicycle-wheels.'
'What have you done with your bicycle?'
'I never had a bicycle.'
Nothing stirs outside. In a bare room, Hamm, an old, blind tyrant, is locked in a stalemate with his servant Clov. Interrupted only by the nostalgic musings of Hamm's ancient, dustbin-dwelling parents, this bleakly funny double act cling stubbornly to their routine of casual savagery and mutual dependence.
Richard Jones (The Hairy Ape, Into the Woods) directs Beckett's macabre comedy in which hope and cruelty are the last things to die.
Endgame will be presented in a double bill with Samuel Beckett's rarely seen short play Rough for Theatre II, performed by members of the company.
Bestillingsskjema: lørdag, 1 februar 2020
Bestilling inntil: lørdag, 28 mars 2020
Endgame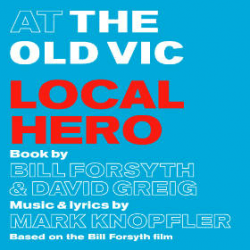 Local Hero
Old Vic Theatre
Billetter fra 390NOK
'Knox Oil will consider any price.'
'I tell you what, Mister Mac, how about this: a dollar for every grain of sand in my hand?'
Ambitious Texan oil executive Mac MacIntyre arrives in Scotland on a mission to buy a small seaside village and replace it with a refinery. It's the deal of a lifetime, but Mac soon finds that putting a price on this beautiful spot is more complicated than he bargained for. Before the locals get rich, they must decide what their home is worth.
The hit comedy film Local Hero takes to the stage as John Crowley (Brooklyn, The Goldfinch) directs a new musical adaptation by Bill Forsyth and David Greig (Dr. Seuss's The Lorax) with music and songs by the legendary Mark Knopfler.
Bestillingsskjema: onsdag, 24 juni 2020
Bestilling inntil: lørdag, 22 august 2020
Local Hero
Old Vic Theatre Facilities
Klimatisert
Bar
Uføre toaletter
høreapparat
Toaletter
Adgang for rullestol
Old Vic Theatre Beliggenhet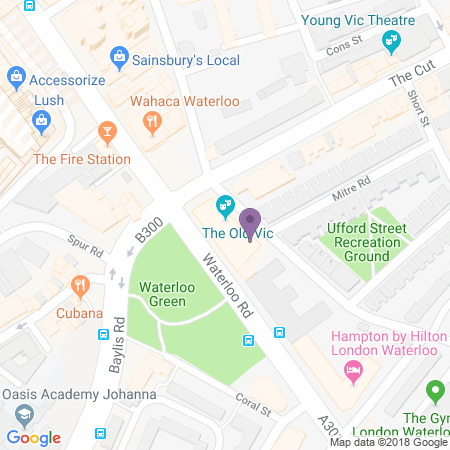 Veibeskrivelse
Reiseinformasjon
Nærmeste undergrunnsstasjon
Nærmeste jernbanestasjon
Dagbusser
(Waterloo Road) 1, 4, 26, 59, 68, 139, 168, 171, 172, 176, 188, 521, X68; (Mepham Street) 211, 243, 507
Nattbusser
(Waterloo Road) 139, 176, 188, N1, N68, N171; (Mepham Street) 243
Old Vic Theatre history
From the outside
A lovely, symmetrical traditional theatre frontage gives way to London brick sides with graceful arches and circular windows. Inside, the auditorium is created in a traditional horseshoe shape with beautiful cream and gold seating and a stunning crystal chandelier above.
Old Vic Theatre architecture and history
Designed by Rudolph Cabanel, The Old Vic was built specifically to entertain the nobility and gentry, opening way back in 1818 with a fine assortment of period melodrama, ballet and dance. It was originally nick named the The Royal Coburg Theatre because of the cash donated by the Saxe Coburg Gotha royal family.
The theatre changed its name an impressive yet confusing four times over the next seventy years, closing down in between each name change. In 1884, then called the Royal Victoria Hall and Coffee Tavern, it finally began to win respect as a theatre, with a series of highly popular Shakespeare plays.
Like many London theatres the building suffered serious bomb damage in the Second World War, which saw it empty until 1950 when it was finally rebuilt. But in 1963 the National Theatre Company was formed, taking the Old Vic as their home and bringing success in its wake.
The NTC moved to their new premises at the new National Theatre complex in 1976 and, at this point, things became very uncertain with rumours about the building's fate running rife. It was threatened with replacement by a pub and even a lap-dancing venue, but the Old Vic Theatre Trust took on the challenge and the venue was eventually saved, coming back to vibrant life. Hollywood star Kevin Spacey took on the role of artistic director and quickly raised the theatre's profile to dazzling heights, starring in numerous Old Vic theatre productions ever since.
Past shows at the Old Vic Theatre
Over the decades, throughout its initially troubled history, the Old Vic theatre has hosted Gaslight and Cinderella, Speed The Plow and Pygmalion, Table Manners and Living Together. Audiences have been thrilled by Round and Round the Garden and Complicit, Dancing at Lughnasa and the classic The Cherry Orchard. A Winter's Tale has taken its place alongside Inherit the Wind, Six Degrees of Separation and The Real Thing. Shakespeare's As You Like It and The Tempest have played to packed Old Vic houses, as have Design For Living, A Flea in her Ear, Cause Celebre, Richard III and The Playboy Of The Western World.
Old Vic Theatre access
The Old Vic is almost two centuries old and, as such, access is restricted in some areas simply because of its age and layout. There's no step-free access to the foyer, box office or bars but the theatre staff are always happy to help with accessibility issues.
Old Vic Theatre tickets
We're a trusted destination for a wide variety of seat types and prices, with excellent availability on the full range of Old Vic Theatre tickets.