Portugal Street, London, WC2A 2HT GB
Raske fakta
West Ends største lagerbeholdning av billetter
Tilgjengelighet for sitteplasser i sanntid
Velg sitteplassene dine
Bestillingen din behandles direkte i billettkontorets bestillingssystem.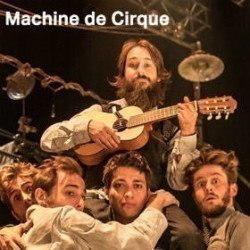 Machine de Cirque
Bestilling inntil: lørdag 26 september 2020
Billetter fra 258NOK
Bestill billetter
Om Machine de Cirque
Tid
Bestilling inntil: lørdag 26 september 2020
Machine de Cirque Beskrivelse
Since 1977 the London International Mime Festival has been showcasing the best in visual theatre with venues all around the capital. This year, the French contemporary circus company Galactik Ensemble comes to The Peacock as part of the festival.  
Five daredevil acrobats, all graduates of the famous circus school at Rosny sous Bois, try to survive a set that seems to be going out of its way to hurt them. Firecrackers explode, sandbags drop from the flies, walls shift and move and nothing stays still for long.