St Martin's Lane, London, WC2N 4ES GB
Raske fakta
West Ends største lagerbeholdning av billetter
Tilgjengelighet for sitteplasser i sanntid
Velg sitteplassene dine
Bestillingen din behandles direkte i billettkontorets bestillingssystem.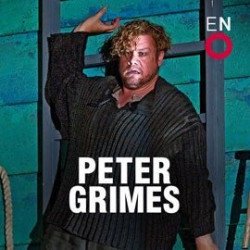 Peter Grimes
Bestilling inntil: onsdag 11 oktober 2023
Spillets lengde: 3 hours 15 minutes (incl. 2 intervals)
Billetter fra 159NOK
Informasjon
Billige Billetter
Om Peter Grimes
Peter Grimes Beskrivelse
Featuring some of the most powerful and evocative opera music ever written, Benjamin Britten's Peter Grimes paints a vivid picture of a small community's transformation into a hateful mob in the face of a local tragedy.
Peter Grimes' apprentice goes missing in mysterious circumstances. The townspeople's mistrust of the fisherman then turns into something far darker. Gossip becomes suspicion. Suspicion descends into accusation. The villagers come together with devastating consequences to confront the outsider Grimes.
Part-psychological thriller and part-morality play, Peter Grimes is an elegantly simple story. Beautifully expressed musically, about ever-present forces of fear, suspicion and intolerance. Forces, that if left unchecked, repress our differences and drive us apart as individuals and communities.
The production is conducted by Martyn Brabbins, ENO's Director of Music, and directed by longstanding ENO collaborator, David Alden. It features Gwyn Hughes Jones in the title role with former Harewood Artists, Elizabeth Llewellyn (as Ellen Orford), Alex Otterburn (Ned Keene) and, John Findon (Bob Boles).
Sung in English, with subtitles projected above the stage
Assisted performance BSL: 9th October 2023 19:00
Nyttig informasjon
Bestilling inntil:


onsdag 11 oktober 2023

Spillets lengde:


3 hours 15 minutes (incl. 2 intervals)
Tid
Neste forestilling for Peter Grimes på London Coliseum
Billlige Peter Grimes billetter
Se Peter Grimes i London! Vi kan hjelpe deg å spare opptil 70å Peter Grimes billetter! Hvis du er ute etter teater rabattbilletter, ta en titt nedenfor på våre siste tilbud for Peter Grimes på London Coliseum.
Det er ingen spesialtilbud tilgjengelig for øyeblikket, men vi har fortsatt gode billettpriser for Peter Grimes på London Coliseum.